KYB Corporation is sponsoring Team JAOS who will participate in the Asia Cross Country Rally (AXCR) which starts this weekend.
AXCR began in 1996 and has been an FIA certified rally since 2001. It's the biggest cross country rally event in Asia and is known as the "Paris-Dakar of the East". AXCR includes a number of vehicle driving disciplines, motorbikes, quad bikes, sidecars, and 4x4s, with most of these disciplines including petrol, diesel and electric classes.
The Team JAOS vehicle is a Toyota Double Cab HILUX REVO (Revo / Toyota: Hilux) 2.8 G. The vehicle will drive with specially designed KYB shock absorbers.
There are two drivers for the vehicle. Firstly, 30 year old Japanese Tomonori Noto, who began racing at the age of 10. He has raced ever since, and joined JAOS team in 2015. Secondly, 40 year old Japanese Kazuhiro Tanaka, who graduated from university majoring in mechanical engineering. In 2001 he began working for KYB, and in 2015 he joined the JAOS service crew to support the team in the AXCR. In 2017 he became the co-driver for JAOS.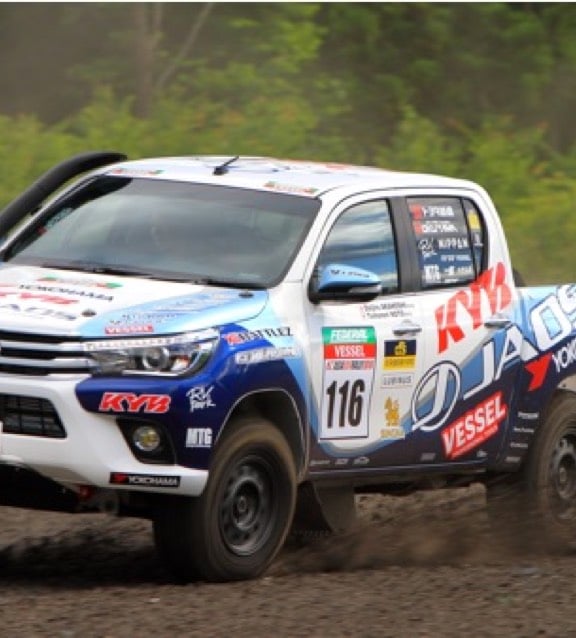 AXCR 2018 begins in Thailand and finishes in Cambodia, via Siem Reap, the most popular tourist site in Cambodia. The 2,200km rally is spread between six legs and is a test of driving and navigation skill, endurance and teamwork, as well as the preparation, durability and toughness of the 4 wheel drive vehicles.
KYB has partnered with Team JAOS for the last few years their partnership is hoping to build on previous results, with their best finish to date in 5th place. You can follow their progress on KYB's social media channels during the race.