Introducing the teams
About

KYB EKS JC

World Championship winning squad KYB Team JC, EKS and triple FIA World Rallycross Champion Johan Kristoffersson will join forces in an FIA World RX 2021 title bid, as Team KYB EKS JC.

Swedish driver Kristoffersson joins Belgian Enzo Ide with both drivers using KYB shock absorbers and electronic power steering in the newest generation of Audi S1 EKS RX quattro.

The team will continue development of top-level rallycross shock absorbers, continuing the technical collaboration between JC Raceteknik and EKS that started in 2019.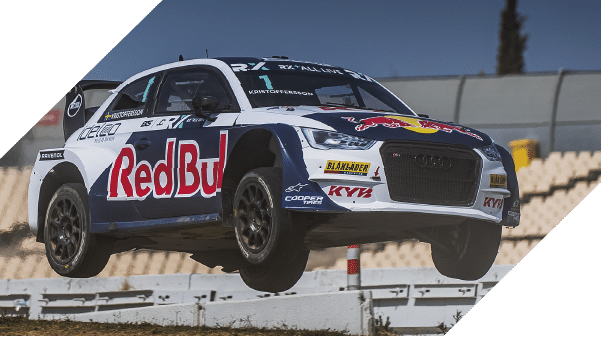 About
World
Rallycross
Rallycross began in 1967 in the UK and was granted World Championship status by the FIA in 2014. It is a combination of rally and circuit racing. Tracks are usually 60% asphalt and 40% dirt, with short laps around 1km in length. Qualifiers are 4 laps, semi's and final are 6 laps. Every race, drivers must complete one joker lap – a slightly longer route. The timing of when to take this joker lap gives Rallycross a real tactical edge. The cars are over 600bhp, and go 0-60mph in under 2 seconds, quicker than an F1 car.
Records & Achievements
KYB EKS JC
WRX Record
2021
Driver: 1st Johan Kristoffersson, Team: 3rd Overall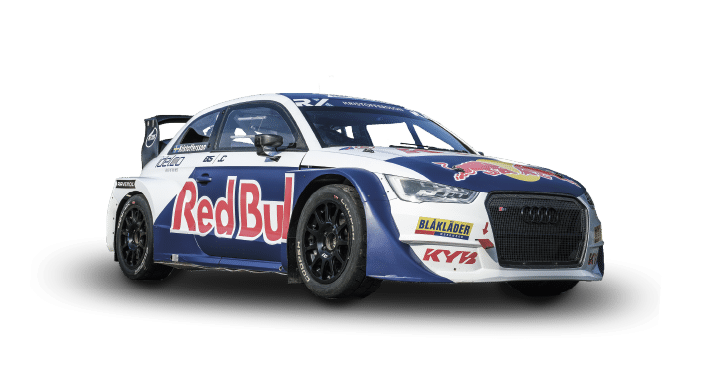 About the vehicle
Audi S1
RX Quattro
Category: Supercar
Engine: Audi straight 4 engine with turbocharger and intercooling
Displacement: 2000CC
Power output: 580hp
0-100kph: 1.9 secs

Suspension

EPS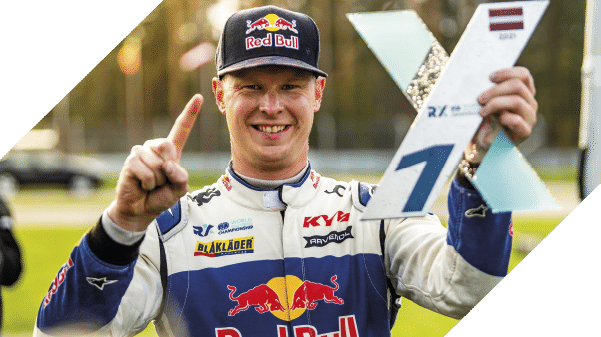 Johan
Kristoffersson
Born December 6th 1988 – Sweden
Johan was born and raised in a motorsport family, from 6 months old he began touring Europe in the family team bus following his father Tommy Kristoffersson's touring car career. His early sporting success came as a cross country skier, but motorsport was always his passion. He joined his father's team in 2008 and came 4th in his first year in the Junior Touring Car Championship.
The 32-year old Swede has 36 World RX podium finishes to his record, with 24 of those being wins. He is the most successful WRX driver in history. Kristoffersson has not only claimed three World Rallycross Champions' titles (2017, 2018, 2020), but also three titles at Porsche Carrera Cup Scandinavia, two Scandinavian Touring Car Championship titles and one Superstars International Series title. He is currently competing in the Extreme E series, at the time of writing he is in 1st place with teammate Molly Taylor for Rosberg Racing.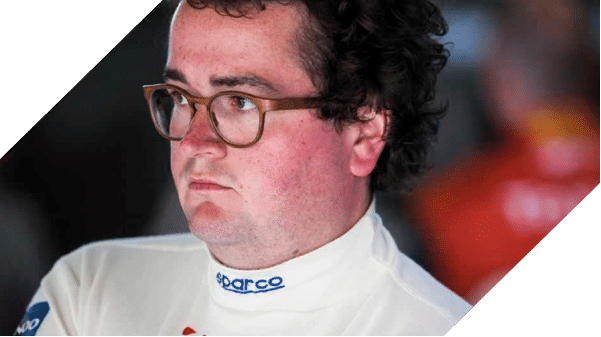 Enzo
Ide
Born June 22nd 1991 – Belgium
Enzo Ide followed an unconventional route into rallycross. He began his racing career in the domestic Belcar series in 2010, he graduated to the FIA GT3 European Championship the following year, driving an Audi R8 LMS for Audi Club Team WRT and won three races on his way to third in the overall classification. That season he also came third in Belcar and won the 24 Hours of Zolder.
In 2012, Ide stepped up again to the FIA GT1 World Championship, driving a Ferrari 458 Italia GT3, before switching to the Blancpain GT Series' Sprint and Endurance Cups in 2013 in a Audi R8 LMS GT3. He continued to contest the Blancpain Sprint series until 2017, winning the title in his penultimate season.
Transitioning to rallycross in 2019, the Belgian made his debut in his home World RX event at Spa-Francorchamps in a JC Raceteknik-entered Audi S1. He returned in Barcelona the following year – progressing through to the semi-final. He has twice reached the podium in the British Rallycross Championship. In 2021, Ide embarks upon his maiden full campaign in WRX.
Race Schedule

The season has finished. See you next year!