Introducing the teams
About

EKS

The concept of EKS was first thought of in late 2013… by June 2014, owner Mattias Ekström was ready to race. A month later, EKS won their first race in Holjes, Sweden. The group went from idea to WRX Sweden champion in 6 months, an almost impossible feat. In the 2016 season, Ekström became World Rallycross champion, and EKS won the Team Championship. Ekstrom was joined by drivers such as Bakkerud, Nitišs, Heikkenen before he stepped away from the driver's seat, leaving Szabo as lead driver in 2019. From then EKS joined forces with JC Raceteknik to support KYB Team JC, before becoming KYB EKS JC in 2021.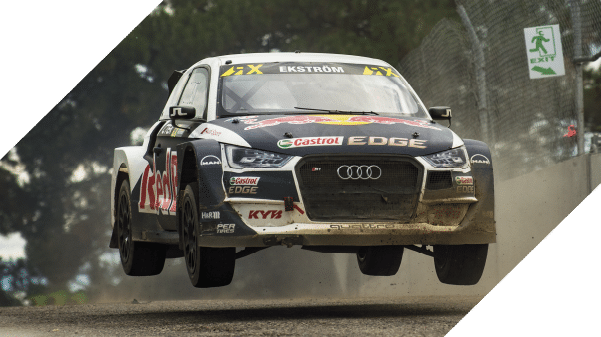 About the
World
Rallycross
Rallycross began in 1967 in the UK and was granted World Championship status by the FIA in 2014. It is a combination of rally and circuit racing. Tracks are usually 60% asphalt and 40% dirt, with short laps around 1km in length. Qualifiers are 4 laps, semi's and final are 6 laps. Every race, drivers must complete one joker lap – a slightly longer route. The timing of when to take this joker lap gives Rallycross a real tactical edge. The cars are over 600bhp, and go 0-60mph in under 2 seconds, quicker than an F1 car.
Records & Achievements
EKS
WRX Record
2019
Driver: 10th place
2018
Driver: 2nd Ekström, 3rd Bakkerud, Team 2nd overall
2017
Driver: 2nd Ekström, Team 3rd overall
2016
Driver: 1st Ekström, Team 1st overall
2015
Winner of 1 round
2014
Winner of 1 round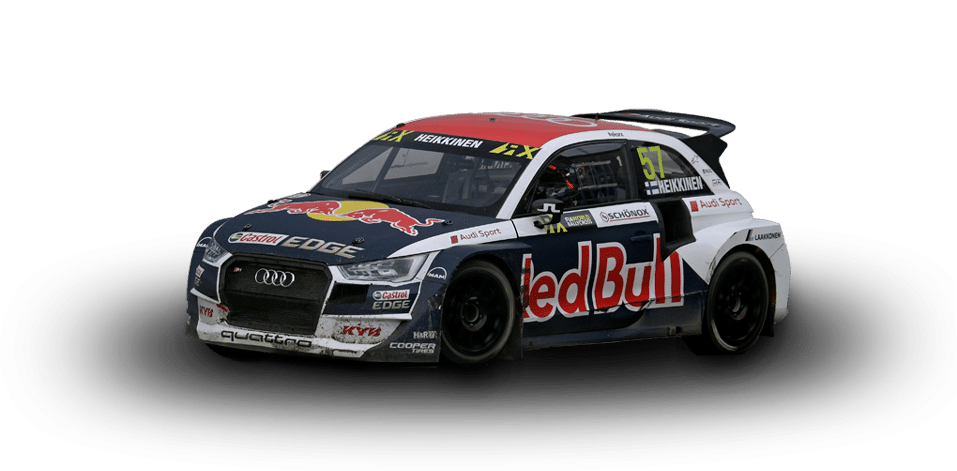 About the vehicle
Audi S1
EKS RX Quattro
Category: Supercar
Engine: Audi straight 4 engine with turbocharger and intercooling
Displacement: 2000CC
Power output: 580hp
0-100kph: 1.9 secs

Suspension

EPS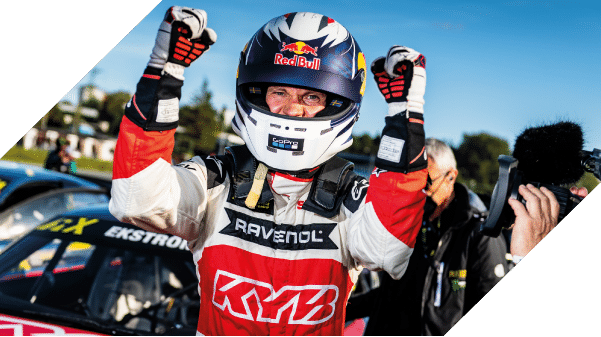 Mattias
Ekström
Born July 14th 1978 – Sweden
Mattias Ekström grew up with rallycross and spent a large part of his youth in RX paddocks watching his dad Bengt, who competed in the European Championship.
Mattias has won race titles all over the world. He's one of those guys who will master anything with four wheels! He won the 2004 and 2007 DTM touring car titles with Audi before turning his attention to World RX in 2014 with the creation of his own EKS RX team. He won the championship in 2016 and was runner up in 2017.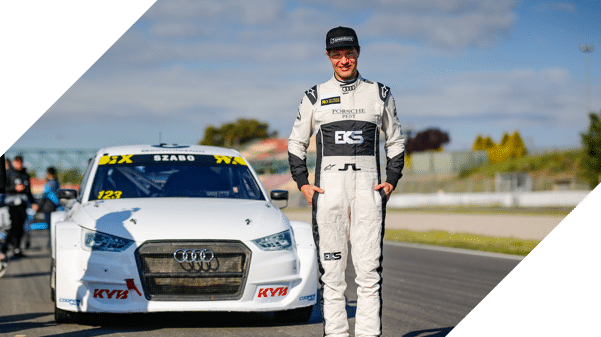 Krisztian
Szabo
Born June 4th 1992 – Hungary
Krisztian Szabo was born in Hungary, 1992. As a teenager, he was a successful skier, but traded snow for the track and began a career in racing. He was Junior European Autocross Champion in 2009 and 2010, and also European Buggy1600 Champion. He switched to Rallycross in 2014 and won the 2016 and 2017 FIA European Rallycross Championship in the Super1600 category. He participated in EuroRX for two rounds in 2018 for EKS, before joining the EKS team as lead driver for the 2019 season.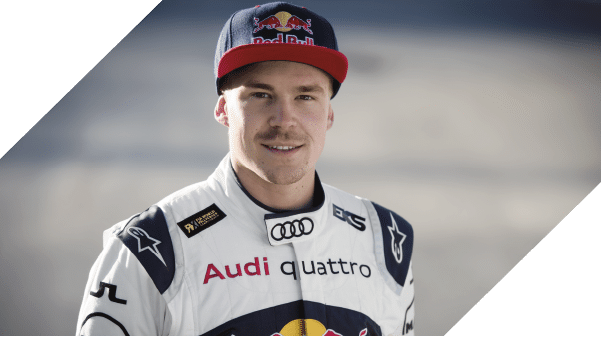 Toomas
Heikkinen
Born March 27th 1991 – Finland
Heikkinen began his racing career in karting, later moving up to single-seater formula. He switched to rallycross in 2010 while also competing in ice racing. He was the 2010 Finnish rallycross champion, the Global Rallycross Champion in 2013 and has won 6 X Games medals (2 gold). He was part of the EKS team that won the Team Championship in 2016.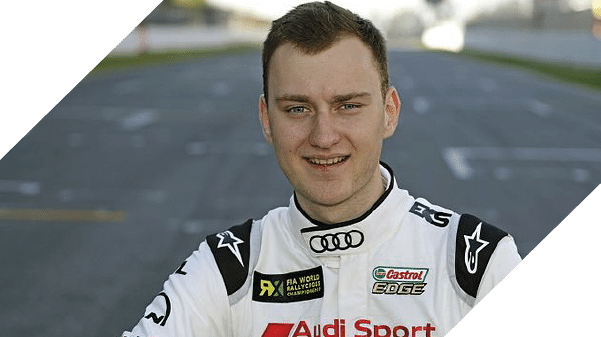 Reiniss
Nitišs
Born December 16th 1995 – Latvia
Nitišs started racing go-karts at the age of 7 and won multiple Latvian national titles and the Baltic series by 13. He moved into rallycross and dominated the Baltic and NEZ championships before moving into the European Super1600, winning in 2013. He moved into World Rallycross in 2014 and is the youngest event winner in World Rallycross history.
Race Schedule

The season has finished. See you next year!