Introducing the teams
About

RX Cartel

Monster Energy RX Cartel was a new team for the 2019 season. Former team mates Liam Doran and Andreas Bakkerud were supported by EKS and raced two Audi S1 EKS Quattros. The two drivers, backed by an army of fans and a rebellious social media team certainly shook up the WRX on their way to 3rd place in the Team Championship with Bakkerud finishing joint 1st on points, only losing agonisingly on race wins after a memorable season. In 2021, Larsson replaces Bakkerud as the RX Cartel set their sights on breaking America in the Nitro RX series.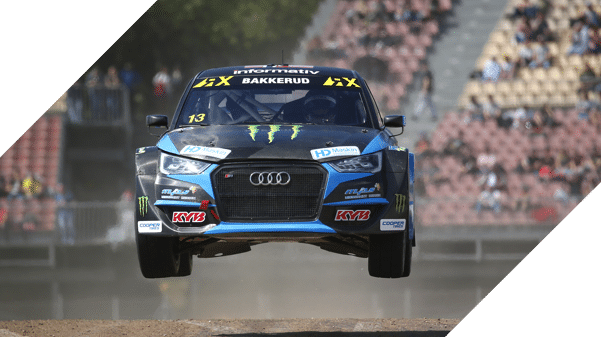 About the
World
Rallycross
Rallycross began in 1967 in the UK and was granted World Championship status by the FIA in 2014. It is a combination of rally and circuit racing. Tracks are usually 60% asphalt and 40% dirt, with short laps around 1km in length. Qualifiers are 4 laps, semi's and final are 6 laps. Every race, drivers must complete one joker lap – a slightly longer route. The timing of when to take this joker lap gives Rallycross a real tactical edge. The cars are over 600bhp, and go 0-60mph in under 2 seconds, quicker than an F1 car.
Records & Achievements
Monster Energy RX Cartel
WRX Record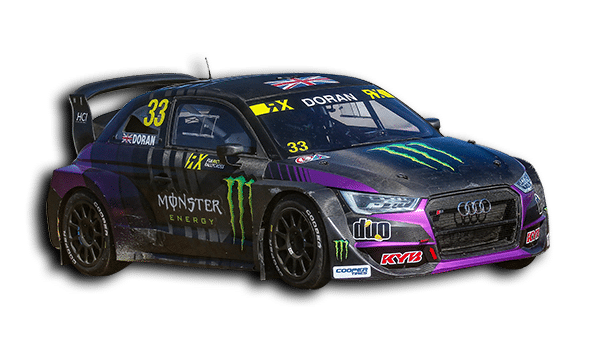 About the vehicle
Audi S1
EKS RX Quattro
Category: Supercar
Engine: Audi stright 4 engine with turbocharger and intercooling
Displacement: 2000CC
Power output: 580hp
0-100kph: 1.9 secs

Suspension

EPS
Andreas
Bakkerud
Bakkerud began racing karts at the age of 7 and made the move to rallycross at just 15 years old. He finished 2nd in the 2009 Norweigan Championship, then moved to European Rallycross (Super1600 category) coming 3rd in his debut season and winning Norway's Young Driver of the Year award. He then won the European Rallycross Championships in 2011 and 2012, before moving up to EuroRX in 2013, winning two rounds in his debut season. A move to the FIA World Rallycross Championship in 2014 saw him play a crucial role in his new team winning the FIA Team Championship.  More stage wins in 2015 and 2016 followed, including becoming the first person to win maximum points over a weekend in Hell, Norway. Look out for Bakkerud's army of loyal fans at every WRX stage, they are the ones in "Bakkerud Blue" singing from the first race until the last!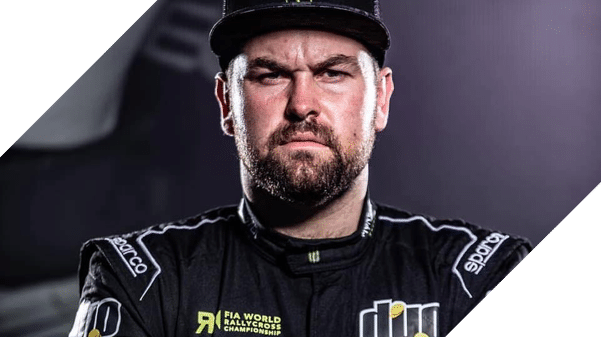 Liam
Doran
The Doran family have been present in Rallycross since it began, with Liam beginning his career in 2000 at the age of 14. He quickly progressed and came second overall in the 2009 British Rallycross Championship, successfully moving up to European Rallycross the season after. As well as Rallycross, Doran won a gold medal in the 2011 X Games, and another 3 X Games medals in 2013. In 2014, he moved up to World Rallycross Championship until 2016, reappearing in 2018 and signing for the RX Cartel for the 2019 season. The British Bomb has experience of being a driver, team boss and engineer, and has Rallycross in his blood.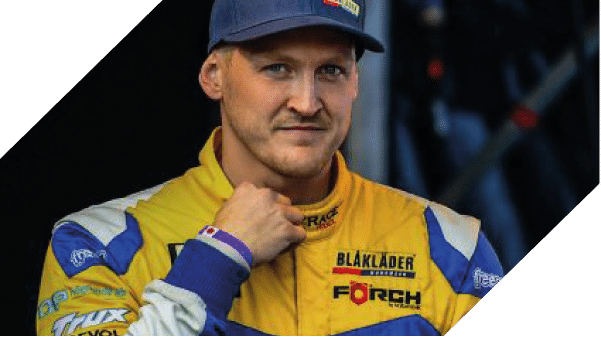 Robin
Larsson
Born July 8th 1992 – Sweden
Robin Larsson was double FIA European Rallycross Champion for Supercars and WorldRX event winner in Argentina 2015. In his first year at the wheel of the EKS-built Audi S1, he won the first four events of the five-round European Championship to secure the title with the JC Raceteknik team.
He brings his flamboyant driving style stateside for the 2021 NRX after dominating the European scene in 2019 and a year in World Rallycross, winning the Teams Championship with KYB Team JC.
Race Schedule

The season has finished. See you next year!