Wayne Taylor Racing's No. 10 Konica Minolta DPi Cadillac has won the Rolex 24 race at Daytona, in a vehicle using KYB Sport Electronic Power Steering (S-EPS).
The team drivers were Jordan Taylor, Renger van der Zande, Kamui Kobayashi and Fernando Alonso. This was the second win in three years for Wayne Taylor Racing, who first won in 2017.
Daytona marks the start of the IMSA WeatherTech SportsCar Championship season with North America's most prestigious sports car race. The 24 hour race was cut short by ten minutes after extensive rainfall caused extreme weather conditions, some of the worst ever seen at Daytona International Speedway. The win was secured by Fernando Alonso with an overtake with just two laps to go.
Former F1 driver Alonso won the 2018 LeMans 24 hour race and becomes the third F1 driver to win an endurance race at Daytona. His next challenge is the Indy 500 in May, to be the first driver in history to complete the "Triple Crown". Team owner Wayne Taylor has won the Daytona 24 race four times.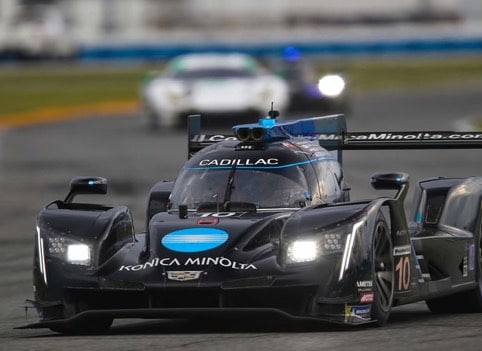 KYB Corporation has a team of dedicated motorsport engineers with a huge amount of experience in developing highly specialised products for use in racing. The high demand of vehicles in this competitive environment requires world class precision and quality. KYB Electronic Power Steering (EPS) systems are widely used in motorsports and particularly in endurance races such as the LeMans 24 hour rally. KYB suspension components are also trusted by a number of motorsport teams across the world.