KYB has continued its sponsorship agreement with FIA World Rallycross Team EKS. The 2019 season also sees KYB extending technical support and sponsorship to an exciting new team, the Monster Energy RX Cartel.
EKS has been competing in the FIA World Rallycross since its beginnings in 2014. Despite announcing the closure of their World RX chapter last season, the EKS team and founder Mattias Ekstrom is now back and supporting three young, talented drivers in the 2019 season – Krisztian Szabo, Andreas Bakkerud and Liam Doran.
Driving for EKS, the beginning of this season marks Krisztian Szabo achieving his career goal of driving in a full World Championship season, having previously been a double champion in the FIA European Rallycross Championship Super1600 class. Highly-acclaimed driver Andreas Bakkerud will also be making a return to the tracks since his last season with EKS, but this time as part of the Monster Energy RX Cartel alongside the hugely popular British driver, Liam Doran.
All three drivers are driving the Audi S1 EKSRX Quattro – the same cars that steered the EKS team to 2nd place last season. KYB continues to play an important part in EKS' journey. Widely used and renowned in motorsports, all three cars are fitted with KYB Electronic Power Steering (EPS) and are now equipped with KYB dampers – something that KYB and EKS have worked closely together to develop last season. KYB engineers will attend all races and tests throughout the 2019 season to support the two teams. KYB have been supplying EPS to EKS since the team started in 2014.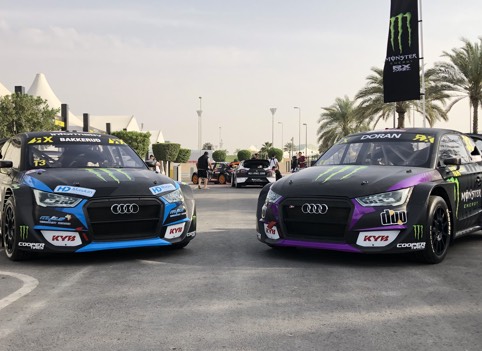 On Friday 5th April, the 2019 season began. Kicking off under the bright lights of the Yas Marina Circuit in Abu Dhabi, 16 cars took to the race track to compete in a dramatic opening to the competition. Bakkerud unfortunately crashed in Q3 and was subsequently unable to compete. Unshaken, Bakkerud returned and acted as a spotter to Doran in the final, helping Doran finish in 3rd place in the overall standings. Szabo finished 4th – a fantastic success for his World RX debut.
Consisting of 12 two-day events across the world, WRX takes place on tracks that are a mix of rallying and circuit training. Drivers are equipped with RX Supercars with over 600bhp and the ability to accelerate from 0-60mph in less than two seconds. Regular updates regarding World RX can be found across KYB's social media.