Last weekend the World Rallycross Championship came to Silverstone, UK, where a superb weekend of action would culminate in a final with 50% of the field driving with KYB dampers and KYB electronic power steering!
It was yet another podium appearance for Andreas Bakkerud, an unbelievable effort from the Norwegian to secure second spot despite driving for the whole semi-final and final without the use of his damaged handbrake. Bakkerud was joined in the final by his teammate Liam Doran, securing more vital points for the RX Cartel as they hunt down second spot in the Team Championship. Bakkerud's third podium in a row keeps him in third position in the Driver's Championship, with Doran in sixth position, only two points behind fourth place.
EKS driver Krisztián Szabó also joined Bakkerud and Doran in the final, after all three also came through semi final two together. The Hungarian driver held on for fifth place in the final, keeping him in ninth in the Driver's Championship, only two points behind seventh place.
KYB engineers were supporting the teams at Silverstone this weekend and were delighted to see all three KYB supported cars get into the final after working hard with the EKS team and Mattias Ekström for months on the new dampers. KYB's dampers also came in for some praise from the legendary voice of Rallycross Andrew Coley, describing the ability of the Audis to tackle the fearsome Silverstone jump as "unbelievable".
Last but not least, there was another outing for KYB's new dampers this weekend.  Silverstone saw the first round of the EuroRX, where JC Raceteknik began their season racing with the EKS built Audi S1 from the Championship winning 2016 season. The car has been updated to include new KYB dampers, alongside its KYB electronic power steering. Robin Larsson dominated the weekend, the Swede powering to victory in the final to go straight to the top of the EuroRX leaderboard.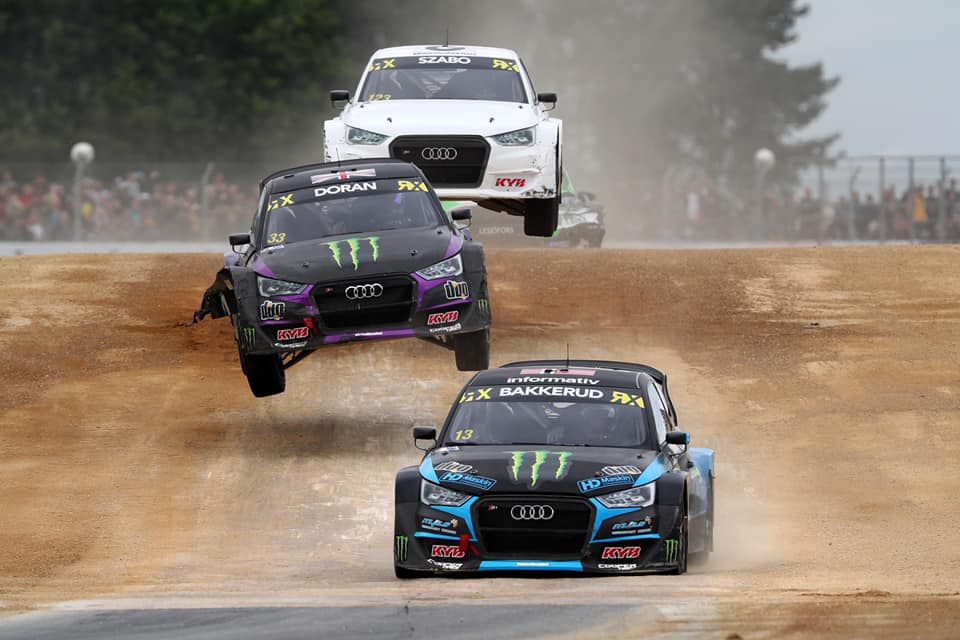 KYB is a proud partner of EKS and the RX Cartel as they battle it out for the FIA World Rallycross Championship. Both teams use KYB dampers and electronic power steering and are supported by expert KYB engineers at races and during testing. All eyes are now on Hell, Norway on the 15th and 16th June!