Round 5 at the famous Norwegian circuit featured many ups, many downs, and almost every type of weather possible. Blazing sunshine for the qualifiers and monsoon-like rain for the finals as well as a final full of incidents made this a round to remember in this season's World Rallycross Championship.
It was a round to forget for EKS Sport's Krisztián Szabó who failed to make it to the semi-finals for the first time this season, however this will serve as good experience for the Hungarian in his first full season in WRX. He will be extra focussed to bounce back next week in Holjes, the home race for Sweden-based EKS.
It looked as if Liam Doran's weekend was over before the semi-finals, however a disqualification put the Monster Energy RX Cartel driver back into semi final 2. Starting from the very back of the grid Doran had everything against him. Then, the heavens opened. The teams all scrambled to change their car's set up as the whole weekend turned on its head. As the lights went green, the front row struggled for grip on the newly wet surface. Doran launched from the back of the back with a superb start, streaking from last to first and straight into the joker lap. 6 laps of perfect driving later and the British Bomb had won, securing his spot on the front row of the final. All was going perfectly in the final and Doran was leading the "joker-ed" pack until a gearing issue slowed him down, eventually coming in 5th.
It was a weekend of ups and downs for Doran's teammate Andreas Bakkerud, racing in his home country in front of a huge amount of Bakkerud Blue fans. A dominant win in Q4 gave him and his fans reason to cheer, however it was unfortunately not to be as Bakkerud was not able to progress from the semi-final stage.
Finally, in Euro RX it was 2 wins from 2 for Swedish driver Robin Larsson and JC Raceteknik. His Audi S1 has KYB dampers and EPS technology onboard and was expertly driven in conditions that Larsson admitted he had not experienced so far in his new car. Larsson caught the eye with some brilliantly sideways joker action throughout the weekend, also winning Q2, Q3 and his semi-final.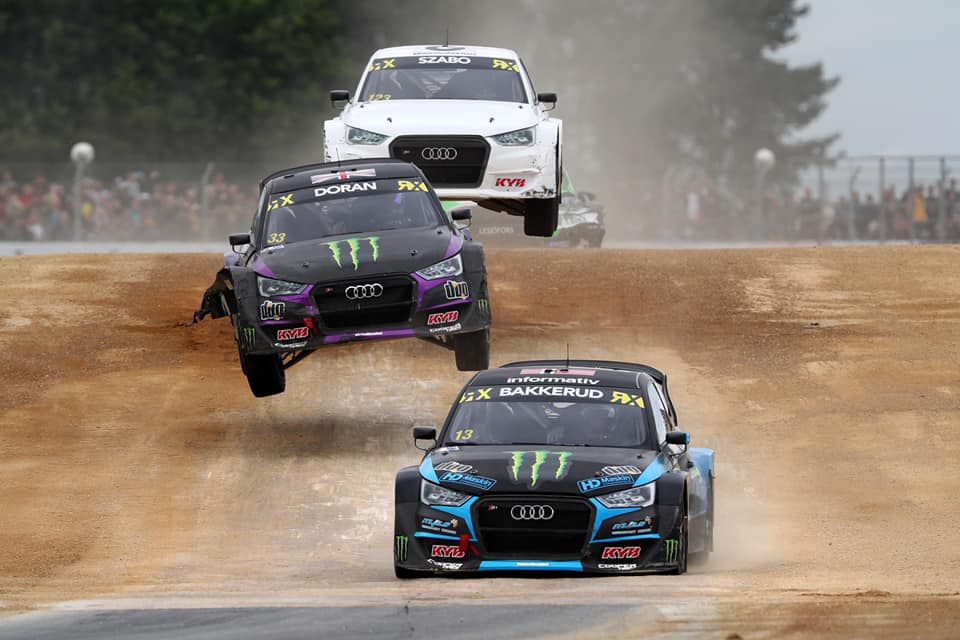 KYB is a proud partner of EKS and the RX Cartel as they battle it out for the FIA World Rallycross Championship. Both teams use KYB dampers and electronic power steering and are supported by expert KYB engineers at races and during testing. All eyes are now on Holjes, Sweden on the 6th and 7th July!