KYB has been supporting EKS in the World Rallycross for many years, starting as a supplier of electronic power steering, then later as a supplier and sponsor. Last season, work began on taking this partnership to the next step, with KYB becoming a suspension supplier to the 2016 World Champions. This season is the first full year that EKS has run with the KYB suspension, as well as the other two teams they support, the Monster Energy RX Cartel and JC Raceteknik. They are supported by KYB engineers at each race, so we took the time to speak to Regular Supporting Engineer, Masatoshi Okumura, about what it takes to support a motor racing team competing for honours at the highest level.
How long have you worked at KYB? How long in the Motorsport department?
I have been working for 9 years for KYB, and 1 year 9 months for Motor Sports Dept. since 1st August 2017.
What do you do to prepare the cars the day before the race?
At first, I walk the track to see and understand the racetrack condition. After that, I have a meeting with the team and adjust the dampers for the first practice run.
If unexpected rain falls during race weekend, do you have to make changes to the dampers and steering to suit the new conditions?
Another EPS engineer is responsible for the steering but basically there is no tuning change for rain. For the dampers, we can adjust the damping force again when setting up the car, after consulting with the team engineer.
Do you have to set the cars up differently, to match the driving styles of Doran, Szabo and Bakkerud? 
There is not a huge difference, but there is a small personalised adjustment required to suit each driver.
How different is the technology in a regular KYB damper, compared to in a WRX race damper?
This specialised WRX race damper has been in development with EKS since 2017, it uses a structure and hydraulic oil that have not been adopted in regular product. Also, we keep updating the dampers as we progress through the season.
What has been your biggest unexpected challenge during a race weekend?
Everything is a challenge for me as I only experienced 4 races before the 2019 series began. I give an opinion as a suspension supplier because the team requires an opinion for the overall setting not only damper settings. I always do my best while cooperating with the team to win each race.
Considering the jumps and different road surfaces, how unique is working with a rallycross team, compared to other motorsports?
It is very difficult to deal with both gravel and tarmac as well as the big jump in WRX tracks! We need to analyse all feedback and work with the other support members as well. We require specific damper settings depending on each race track layout, and we also have to be prepared to change the damper settings depending on weather conditions between races. We have to work quickly to make adjustments between the 4 qualifying rounds and (hopefully!) the 2 finals.
How many sets of dampers do you bring to each race?
Currently, we prepare 10 sets of dampers to support 3 cars.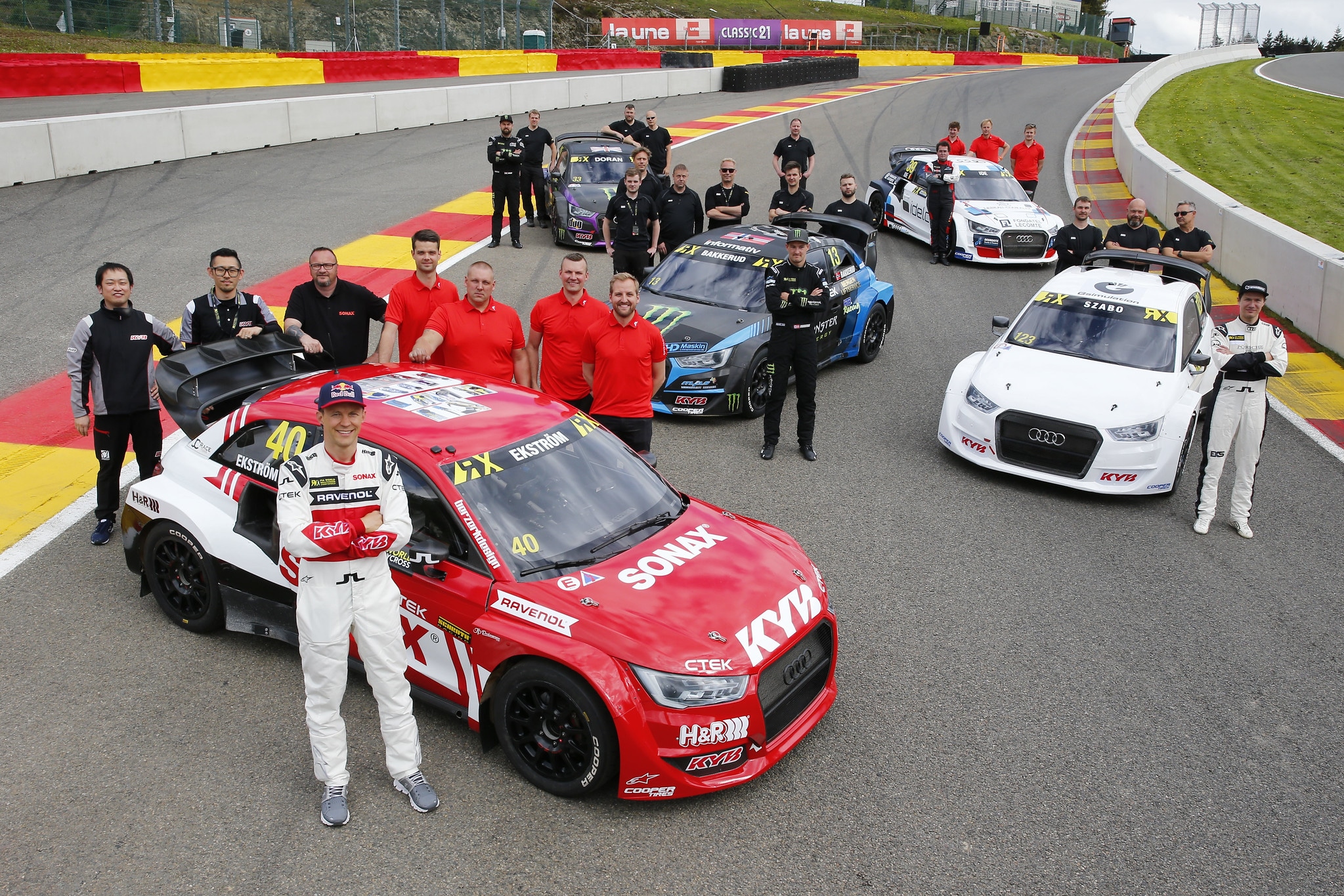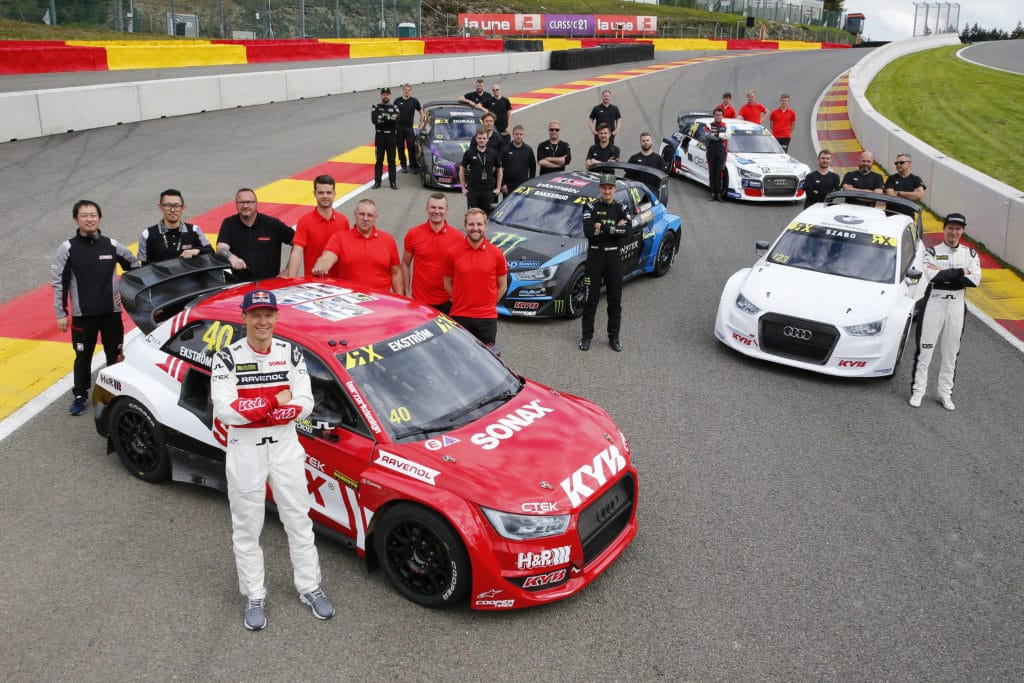 Describe how motorsport development is a benefit for KYB Corporation?
The KYB Motor Sport Department is looking to improve KYB Corporation in three main areas:
Human resource development:
– Learning new ways of thinking by communicating with people who have different background and culture.
– Learning how to communicate and different language for the engineers.
Technical capabilities improvement:
– Working on damper development with the view of vehicle engineers.
– Making prompt decision and action during the race schedule.
Enhancement of KYB brand awareness:
– This is the first ever time that KYB ha signed a sponsorship agreement with a team which participates full races in a World Championship.
– Building the KYB brand both inside and outside the company though the race activity.
We also spoke to Hideaki Ogura, KYB Motorsport General Manager who added; "KYB aims to develop its engineers and improve the KYB brand though its association with World Championship level motorsport. We can also then share these new developed technologies and skills with our other engineers so they can use it when considering the development of suspension of a regular production car".
For more information on the EKS World Rallycross team, click here including the race calendar and more about the team itself. For similar information on the Monster Energy RX Cartel team, click here.