The 2019 Asia Cross Country Rally took place last week, starting in Pattaya, Thailand, and finishing 2,200km later in the capital of Myanmar. Team JAOS (Japanese Offroad Service) finished in 1st place in their T1G class and 7th overall.
JAOS is sponsored by KYB and their Toyota Double Cab Hilux Revo is fitted with specialist KYB shock absorbers, developed and maintained by a team of KYB engineers present every step of the way. They finished each leg of the race in 1st place in their class, with their best finish coming in the final leg, where they finished an incredible 4th overall. Their total race finish time was 11:31:17.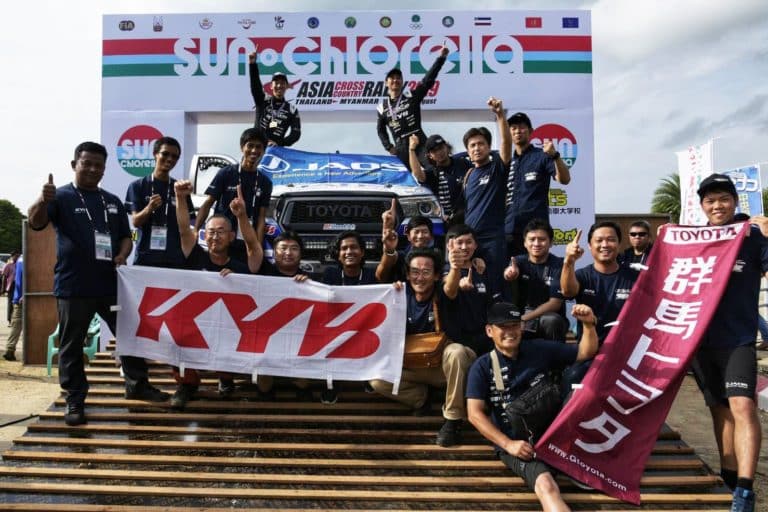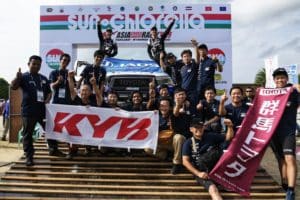 The Asia cross country rally started in 1996 and has been an FIA certified rally since 2001. It's the biggest cross country rally in Asia and is known as the 'Paris – Dakar of the East'. The rally is a test of driving and navigation skill, endurance and teamwork, in addition to the durability and toughness of the 4 wheel drive vehicles. The route is designed to cover many types of terrain such as jungles, swamps, river-crossings and desert. Over the past years, it has included almost every kind of challenge that nature has to offer, this year was no exception, as the teams had to battle rain and floods so bad that it caused the cancellation of leg 4.
The class victory is a demonstration of the reliability and durability of the KYB suspension, we well as the JAOS modified Toyota Hilux vehicle, famed for its indestructability. Special congratulations is reserved for driver Tomonori Noto and co-driver Kazuhiro Tanaka, as well as all of the JAOS and KYB support engineers!