The action took a back seat last weekend as all thoughts were with the tragic death of Formula 2 driver Anthoine Hubert. A sombre moment's silence began the finals day, where we were all reminded just how dangerous racing can be. In the true spirit of motorsport however, the drivers got to work and produced a thrilling day of ups and downs which ended with two KYB equipped cars and drivers at the top of the championship. One driver with the trophy safely in his hands, and one not quite as comfortable yet…
It was another good weekend's work for EKS driver Krisztian Szabo. Q1 saw him doing his paddock mate a favour by keeping Championship leader Kevin Hansen in his rear-view mirror for the duration of the race. He came 2nd in his race in Q3 and 5th fastest overall. He qualified for his semi final once again and finished in 5th. Szabo, currently in 10th place overall, will be looking forward to the next race in Latvia where he made his supercar debut last year.
Monster Energy RX Cartel's Liam Doran raced impressively all weekend and was unlucky not to join his teammate in the final. The British Bomb won his race in Q2 and went 3rd fastest overall in Q4, qualifying comfortably for yet another semi-final. There is definitely a reason why there were 4 different winners of each qualifying round at Loheac, and that reason was the lottery of turn one. Doran started well in the semi-final but contact sent him into the gravel and ultimately cost him what would have been a deserved place in the final. He remains in 7th place overall.
RX Cartel driver Andreas Bakkerud started the weekend 5 points behind Kevin Hansen in 2nd place overall. The weekend got off to an ill-tempered start after contact with Marklund in Q1, however Bakkerud showed his professionalism to put it behind him and get on with the job of collecting Championship points. The Norwegian won his next race and went fastest overall in Q3. He won his semi-final, finishing comfortably in front of Championship rival Timmy Hansen. A great start in the final saw him side to side with Niclas Gronholm, a late brake-off ensued and both missed the apex and ran wide, allowing the cars behind to push through. Bakkerud finished 5th, securing the points required to go to the top of the overall Championship, with only 2 points now separating 1st and 3rd.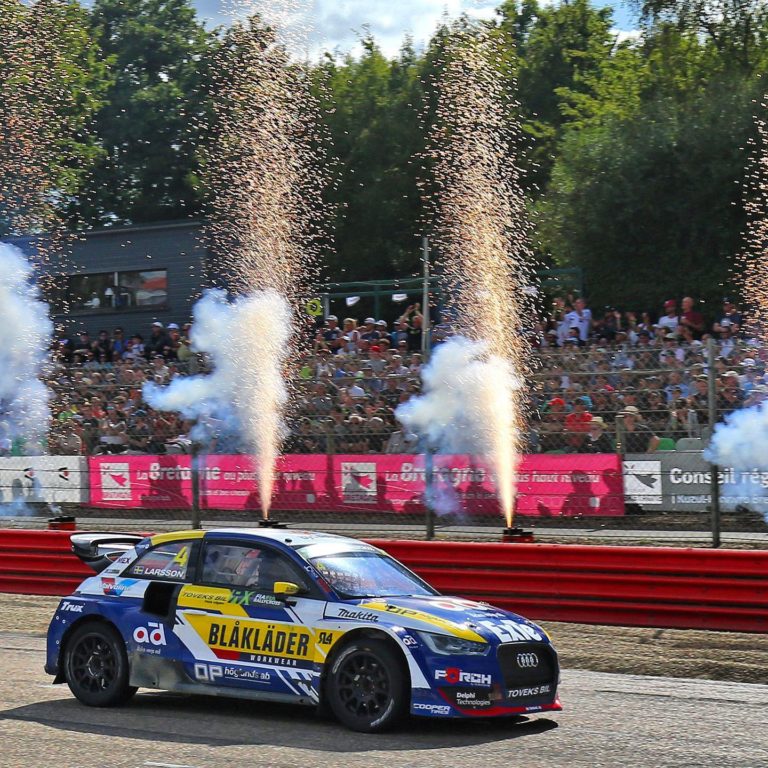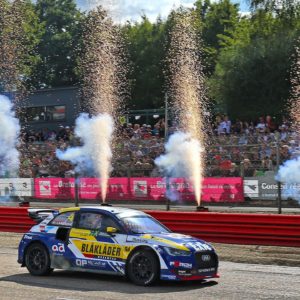 Finally, special congratulations go to Robin Larsson of JC Raceteknik, dominating the EuroRX Championship with 4 wins and 1 second, winning the Championship with one round still left to go. As ever the Swede raced with speed and style to secure the Championship, racing in the EKS car that won the 2016 WorldRX – now fitted with KYB dampers as well as its KYB electronic power steering. With the trophy in the bag, Larsson will now race in the WorldRX category for the next race in Latvia, making it 4 cars on track with KYB onboard. Fingers crossed for the 1-2-3-4 finish!
KYB is a proud partner of EKS and the Monster Energy RX Cartel as they battle it out for the FIA World Rallycross Championship. Both teams use KYB dampers and electronic power steering and are supported by expert KYB engineers at races and during testing. All eyes are now on Riga, Latvia on 14th – 15th  September.