Our last WorldRX race report was titled "the tightest championship in years has just got tighter" … well now its tighter still! Another action-packed weekend in Latvia ensures this incredible championship will be decided at the last race of the season in South Africa.
Robin Larsson, fresh from wining the EuroRX title with a race to spare, made the move to WorldRX for the weekend. Driving his Audi S1 EKSRX with new KYB decals he started brilliantly in Q1, powering away from the start line into 1st position before letting paddock mate and title contender Andreas Bakkerud through. He finished in 7th overall for Q1, before events in Q2 saw his hopes of a semi final appearance disappear with a disqualification. Larsson came into contact at turn 1 with other title contender Timmy Hansen, which was harshly ruled to be worthy of a black flag despite turn 1 being a point of contact between drivers all weekend. The disqualification put Larsson bottom of the table and out of the contention for the semi-finals.
It was a fine weekend for EKS driver Krisztian Szabo who put in some great performances to reach yet another semi-final. He comfortably won his first race which was packed with big names. Q3 saw him win his race again, posting the 4th best overall time and getting the best lap time of the round. The Hungarian was in a tricky grid position for his semi final but raced well to secure 5th position and retain his 10th position in the season standings.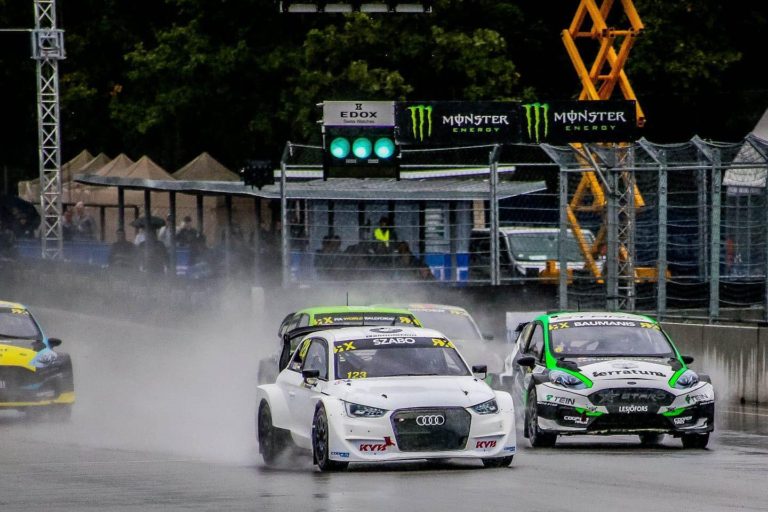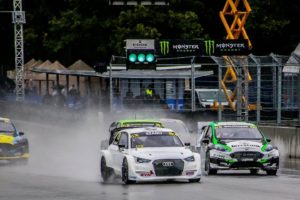 Monster Energy RX Cartel's Liam Doran had another great weekend in reaching the final and supporting his teammate Bakkerud. It was a good start in Q1, before improving to post the 3rd fastest overall time in Q2, reacting to the lights to achieve the quickest start of anyone. Q3 saw a crazy finish in the rain. Doran kept his foot down to hold off the challenge of Marklund but had to put the car into a spin to avoid the wall. Having spun the car in the wet 180° to face away from the rapidly oncoming wall, the British Bomb had to go against all natural instinct to brake, and instead unleashed 600HP to slow the car and avoid the wall, much to the delight of the RX Cartel pit team. Doran comfortably reached the semi final and reacted best to negotiate more turn 1 carnage, before letting Bakkerud past to give him them best chance possible in the final. Doran went on to finish 6th in the final, winning enough points to keep him in 7th position overall championship.
Andreas Bakkerud brought in EKS owner and former teammate Mattias Ekstrom in a bid to banish the demons from last year in Riga where he didn't reach the final. The weekend started great, finishing 2nd fastest overall in Q1. A poor start in Q3 didn't deter the Norwegian as he went from 5th to 2nd in 4 laps. He raced cleverly and efficiently and finished as top qualifier for the weekend, securing more vitally important championship points. Even more rain came for the semi-finals however it was business as usual as Bakkerud finished the semi-final in 1st place to better his result from last year. Unfortunately turn 1 was going to have a say once again in the final race, as Timerzyanov missed the turn and forced Bakkerud to swerve as the Russian recovered, putting him down to 5th. He raced superbly to go all the way back up to 2nd, before a slight mistake put him down to finish 3rd. The overall championship now sees Timmy Hansen 1st, with Bakkerud just 1 point behind in 2nd. Kevin Hansen still has a chance 7 points behind in 3rd.
KYB is a proud partner of EKS and the Monster Energy RX Cartel as they battle it out for the FIA World Rallycross Championship. Both teams use KYB dampers and electronic power steering and are supported by expert KYB engineers at races and during testing. All eyes are now on the final race of the season, South Africa on the 9th – 10th November.