Round 1 on Saturday had set the scene for a big battle between Ekström and Kristoffersson, with Larsson consistently showing he was also on pace with the pair. With that in mind, Sunday's action could not come quick enough.
Q1 saw another great line up, Larsson and Ekström would go head to head again, alongside Kristoffersson and former EKS driver and last year's WRX 2nd place Andreas Bakkerud. The race win would go to Kristoffersson, however Ekström and Larsson both showed they were again on the pace of yesterday's winner, with Larsson performing a great overtake on route to finishing Q1 in 3rd, Ekstrom coming in 2nd.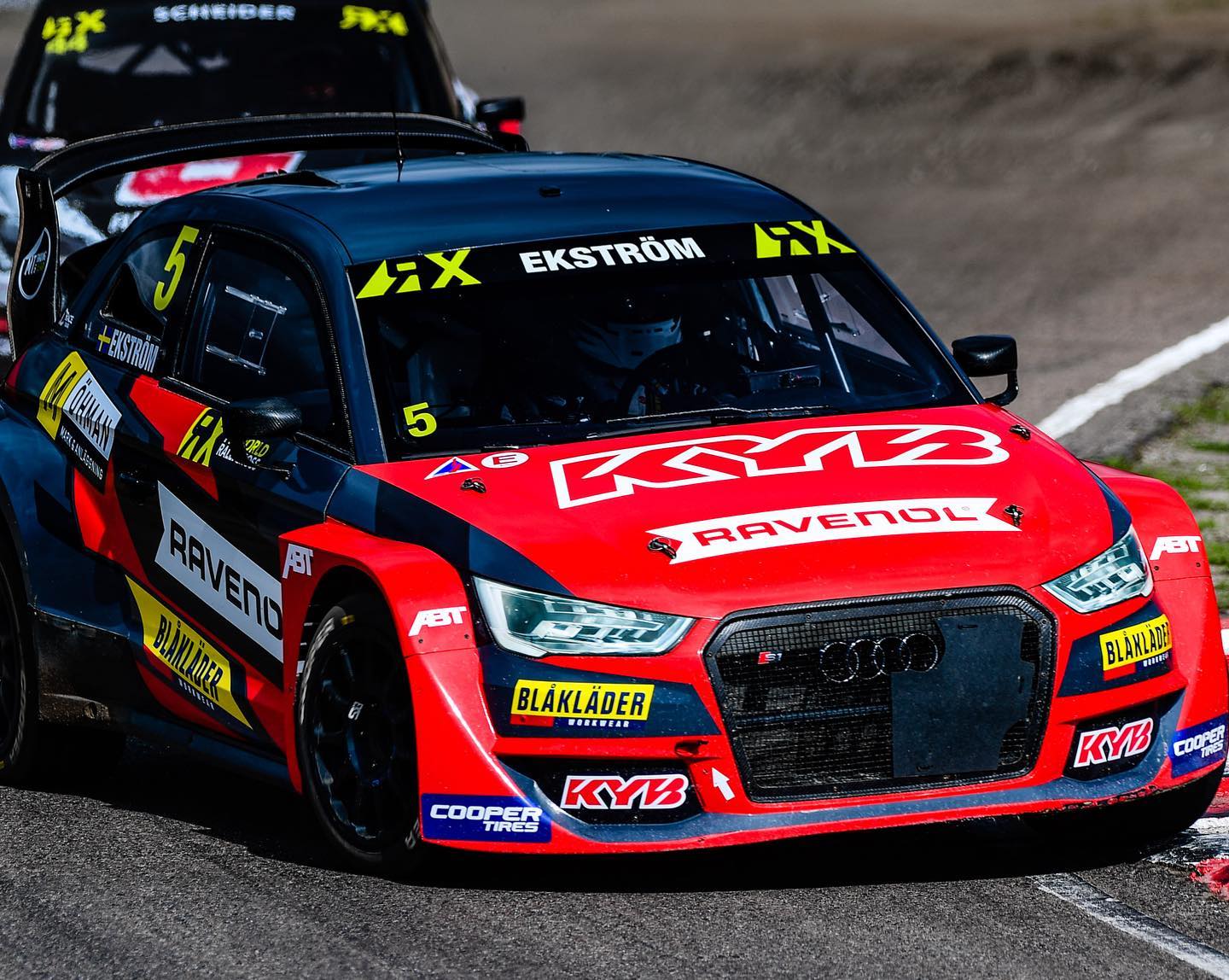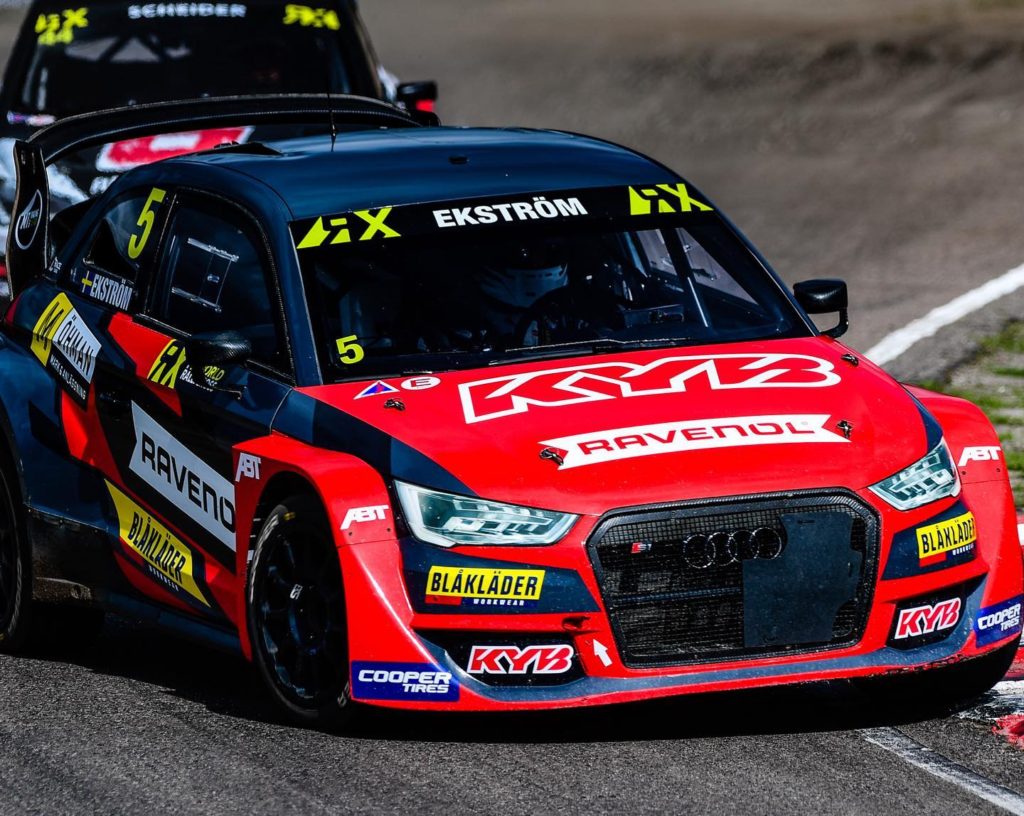 Q2 was one of the race highlights of the weekend, an epic line up of Kristoffersson, Ekström, Larsson, Bakkerud and Kevin Hansen. Kristofferson took off like a rocket once again, Ekström took his joker lap straight away and began the process of hunting down his fellow Swede. Larsson stayed on Kristoffersson's tail and posted the fastest lap of the day. Ekström posted the fastest lap of the day on the next two laps to finish the race in 1st. Millimetre perfect driving was required to squeeze every millisecond out of the Audi S1 RX, and Ekström was achieving it.
Q3 didn't quite live up to the promise of Q2, however both drivers raced well to get themselves into to semi-final. The semi-final saw them both in the same race, on the front row. This time it was Larsson who would beat teammate Ekström, setting up a final with Larsson in the front row, and Ekström in row 2.
The final was said to be one of the best in WRX history, according to commentator Andrew Coley. Larsson started fastest; however, he was pushed into the gravel around turn one. He recovered expertly to hold on to 2nd place and proceeded to catch up with Kristofersson impressively quickly. Meanwhile, Ekström took his joker lap early. Just like in Q2, he now had to race aggressively yet perfectly to gain the advantage required. They traded tenths of seconds between them, each update of the timer showing small victories for Ekström, then Kristoffersson.
Then, Ekström began meticulously taking time from his Swedish rival. As each lap passed, he slowly inched closer to Kristoffersson, pushing his rival to gamble on taking the joker during the very last lap. The penultimate lap, with the pressure at its peak and Kristofferson pushing to his very limit, was when Ekström posted the quickest lap time of the weekend. The ice-cool Swede had saved the best for when it was needed most and flew past Kristoffersson on the joker merge. He then held him off expertly en-route to the win, the 11th of his illustrious career, putting him second to Krisoffersson in the all-time standings.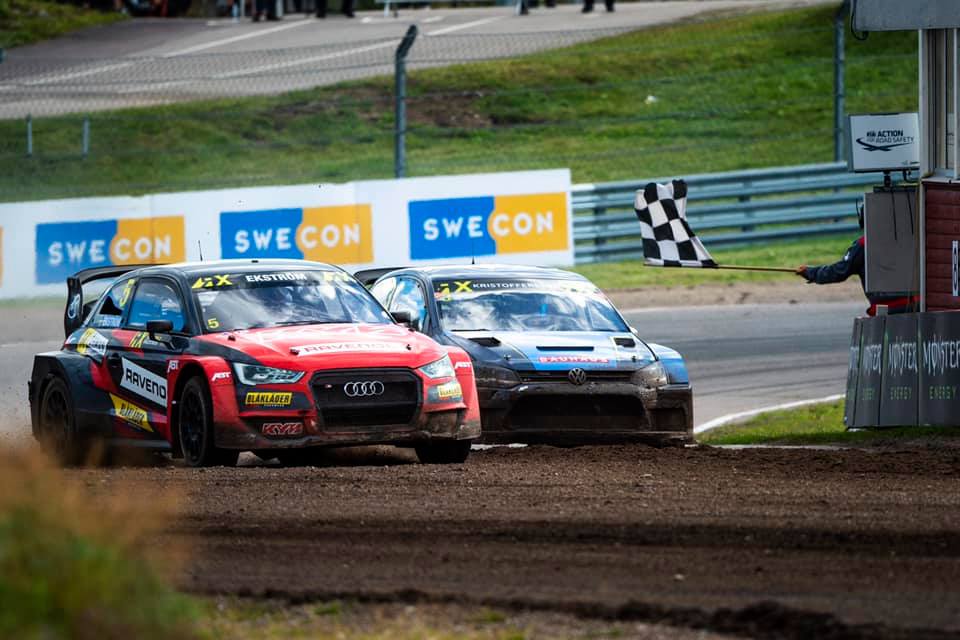 The first weekend in KYB Team JC's World RX career will go down as one of the greatest of all time. Larsson would go on to finish 5th after suffering a puncture on the 5th lap, unfortunately costing him a deserved 2nd place and a KYB Team JC 1-2 on the podium. He had shown all weekend that he was on pace with the top two and finished the day 3rd in the overall WRX standings. Ekström was in 2nd, only 2 points from the top. KYB Team JC sit at the top of the Team league table, a huge 28 points ahead of nearest rival Team Hansen. It was also a superb weekend in the EuroRX, Ben-Philip Gundersen finished 4th overall in his series debut, and Mats Ohman came 4th in his semi-final.
After the victory, Ekström reserved special praise for KYB and the two years of meticulous damper development with EKS. He later went on to confirm he will race at the following weekend's event in Finland.
KYB is a proud partner of EKS and JC Raceteknik as they battle it out for the FIA World Rallycross Championship with KYB Team JC. The cars all use KYB dampers and electronic power steering and are supported by expert KYB engineers. All eyes are now on the next race at Finland, on 29th and 30th August.